This memorial website was created in the memory of 4 month old, Pheonix "Cody" Parrish who was born on August 08, 2004 and passed away on December 15, 2004 in Dothan, Alabama. We will remember him forever. Mourners gather beside the casket of 4-month-old Phoenix 'Cody' Parrish after his funeral at Sunset Memorial Park in Dothan, Ala., on Dec. 23, 2004. The people of Dothan buried him after no one claimed his body. His mother killed him.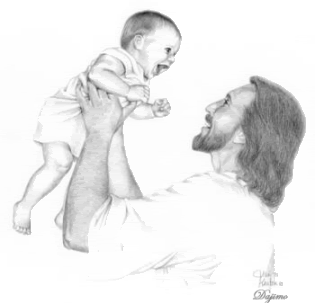 Pheonix's headstone from Cheri Brooks


We Remember Them / Karen/Kassie Mom (Our Angels )
In the rising of the sun and its going down
We remember them

In the blowing of the wind and in the chill of winter
We remember them

In the opening of the buds and in the rebrith of spring
We remember them

In the blueness of the sky and in the warmth of summer
We remember them

In the rustling of the leaves and in the beauty of autumn

We remember them

In the beginning of the year and when it ends
We remember when

When we are weary and in need of strength
We remember them

When we are lost and sick at heart
We remember them

When we have joy we yearn to share
We remember them

So long as we live they too shall live
For they are now a part of us
As we remember them



Fly Away

Fly away on golden wings,
Far from all these mortal things.

Fly to where the Angels live,
See the beauty Heaven gives.

Fly away from darkness, night,
Fly away and find the light.

Fly away your life is done,
Your endless journey has begun.

But hold your memories bittersweet,
Until once again we meet.

Fly away on golden wings,
Your heart is pure, your soul will sing.

Fly on the other shore,
Where there is peace forevermore.



this is Pheonix's beautiful sister, Jewell






"A Rosebud."


When God calls little children
to dwell with him above,
we mortals always question
the wisdom of His love.

For no heartache can compare
with the death of one small child
who does so much to make the world
seem wonderful and mild.

Perhaps God tires -
always calling the aged to His fold
and so he picks a rosebud
before it can grow.







God knows how much we need them
and so he picks but a few
to make the land of Heaven
more beautiful to view.

Believing this is difficult
still somehow we must try.
The saddest word that mankind knows
will always be "good bye".

And so when little ones depart,
we who are left behind
must realize how much God loves children,
for angels are hard to find.


Author Unknown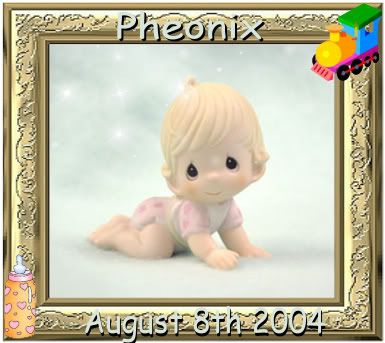 If I wrote your name in the sand,
in a moment the waves would take it away.

If I wrote your name on my hand,
it would be washed away by the
end of the day.

If I wrote your name on a piece of paper,
by accident it would be thrown away.

But I wrote your name in my heart
and there

forever

Phoenix Cody Jorden Parrish

it will stay.




"Blue"

Bright baby boy.
Pheonix, joy.
Eyes so blue,
Pools of sadness,
Crashing pain
Waves of madness.
Clouds breaking sky,
Rainbow.
Sunshine.
Sun, sand, serenity,
Ocean shores
Tranquility.
Peace bird,
calmly bundles you.
Heaven's love
to always view.


Copyright Maria Zollo 2006
All rights reserved










Angel star, Angel star.


Angel star, angel star,
We never wonder where you are.
You're an angel called to love,
From the heavens up above.
Angel star, angel star,
Cody your our angel star.

Angel star shining bright,
Making all the darkness light.
Angel star twinkling high,
Sparkling diamond in the sky.
Angel star, Angels' star,
Forever held in our hearts.

When the warming sun is set,
And our face with tears is wet,
You guide us with your blazing light,
Dancing in our dreams at night.
Angel star, angel star,
Amazing angel, Angels' star.

Angel star, angel star.
Jesus cradles you in his arms.
In the heavens, full of love;
Singing with the choir above.
Cody, your our angel star,
Amazing angel, angel star.

Angel star, angel star,
How we love you, angel star.
Amazing angel, angel star,
Sparkling diamond, angel star,
Cody, your our angel star,
Forever held in our hearts.



Maria Zollo August 2006


Sending you love
always and forever sweet one,
and seven kisses from
my angels.

xxxxxxx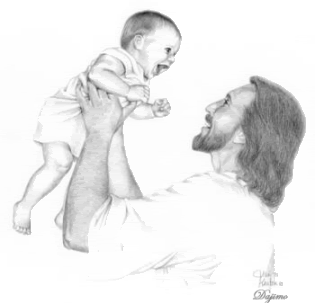 Tampa Tribune Article
Published: May 20, 2006

TAMPA - They didn't know the baby before the broken ribs and wrists, the bruised arms and legs, the fractured skull.




It didn't matter. To the residents of Dothan, Ala., Phoenix "Cody" Parrish was as precious in death as he should have been in life. He was 4 months old when his mother slammed his head against a bedpost to hush his cries. His body was so broken, it looked like someone had thrown him against a wall. No one from Tampa, where Cody's family recently had moved from, showed up to claim Cody's remains. People in Dothan couldn't understand. To them, it was like the baby had been thrown away. Strangers were left to bury Cody with a funeral that galvanized the city. Seventeen months later, Cody's mother sits on death row, and his father is in jail awaiting trial. Cody's great-uncle, who had temporary custody, pleaded guilty in March for his role in the boy's death. That got people talking again about the little boy with no one to love him enough. They still leave flowers and toys at his grave.

Angels By Your Side



May you always have Angels by your side
Watching out for you in all things you do
Reminding you to keep believing in brighter days
Finding ways for your dreams to come true.






May you always have Angels by your side
Someone there to catch you when you fall
Encouraging your dreams, inspiring your happiness
Holding your hand and helping you through it all.





May you always have Angels by your side
May they give you the gifts that never end
And dreams and hopes to keep you warm
And someone to love and be a dear friend.



Soar With The Angels Pheonix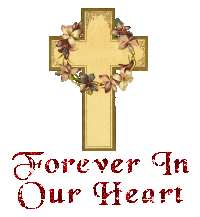 Nearly a hundred people braved the rain at Sunset Memorial Park just days before Christmas in 2004. Intent on giving Cody his proper sendoff, they brought flowers, cards and balloons as if they had known the Parrish family forever. People were overwhelmed by sadness, recalled Robert Byrd, the 50-year-old county coroner whose funeral home buried Cody. "A child came into this world depending on us for everything and got nothing," he said. Not even the baby's kin claimed him. "I have five children, and I cannot even imagine," Byrd said. "It was like the baby was thrown away." Never had this happened, said Byrd, who was born and raised in Midland City, about five miles north of Dothan. "This is a conservative area," he said. "Life is important."
It's Peanut Country
With 60,000 residents, Dothan is one of the fastest-growing cities in Alabama. The town is cornered between the state lines of Florida and Georgia. Half the peanuts grown in the United States come from Dothan and nearby communities. Major corporations such as General Electric, Michelin and Sony call the city home. Yet people here still consider themselves part of a small, country town. Everybody knows everybody. "People here are just old-fashioned, salt-of-the-earth, Bible-reading, God-fearing people who work hard to pay the bills, trying to get ahead," said Tom Brantley, a 60-year-old criminal defense attorney who represented Cody's mother during her trial. "We go to our kids' football games and dance recitals." "Here," he said, "we're very startled and upset by child deaths." Children die in Dothan - sometimes at the hands of their parents - but rarely are they abandoned at the morgue.
"That was almost as disturbing to the community as the child's death itself," said Brantley, a grandfather of two. The local media made a public plea for residents to come to Cody's funeral. "If you don't get a lump in your throat at reading that," Brantley said, "you're not American." The district attorney's office filed paperwork for permission to bury the baby. People donated clothing and money for a casket and plot. The service didn't last longer than 15 minutes, but those who attended couldn't tear themselves away. "People just stayed," said the Rev. Freddie McCain, who was chaplain at Byrd Funeral Home. "They wouldn't leave. It was incredible." McCain tried his best to soothe the mourners. Sometimes, he told them, horrible things happen to good people. Instead of being angry at Cody's mom, they should pray for her. "Cody's in heaven," McCain said. "God took care of that. God takes care of little children." Days earlier, the 60-year-old preacher witnessed Cody's embalming. McCain had to leave the room. Cody had bruises up and down his arms and legs. One arm was so twisted it wouldn't lie right, McCain said. The knot on his head couldn't be fixed.
At the funeral, Cody wore a long-sleeved outfit and lay in a child-size white coffin. "He was precious," McCain said. "He had a little teddy bear. You wanted to pick him up and hug him." Like others in Dothan, McCain struggled with the baby's death. He hung on to Cody's memorial announcement for months, imagining how the baby died. People eventually moved on with their lives. McCain lost track of the memorial notice. Then, in September, Cody's mother was sentenced to death. And Dothan remembered.
An Outrage
Cody was never supposed to be in Alabama. A child welfare worker in Tampa was fired because he lied about visiting the baby in Hillsborough County. Cody already was living in Dothan with his 18-month-old sister and their great-uncle. Edgar Parrish, 42, had custody of the siblings and planned to adopt them in Florida. By law, he needed an agreement that would allow him to relocate as long as Alabama authorities could check on the children. Parrish also promised to keep Cody away from his parents. Still, he let the couple move into his mobile home on Third Avenue. Three weeks later, Cody was dead.
A 911 call on the morning of Dec. 15, 2004, reported Cody wasn't breathing right. He gasped for air in the background. Rescue workers rushed the baby to Southeast Alabama Medical Center just before noon, but he couldn't be saved. An autopsy showed Cody had five broken ribs, both wrists broken and a fractured skull. "This 4-month-old baby was tortured from the time he was born," said Sgt. Tracey McCord, 28, of the Houston County Sheriff's Office. Cody's killing was the worst the detective had seen in his two years with the criminal investigations division. "It's why I transferred to the vice unit," said McCord, whose wife was eight months' pregnant at the time with the couple's third daughter. "You can't help but get attached when a baby is involved."
During his interview with Cody's mother, she didn't even cry, he said. No one in the home, except for the uncle, seemed upset about the baby's death, McCord said. Her defense attorney argued in court that she had an abusive childhood, that she wasn't the only adult in the home. "I'm not at all sure if she caused the death of her child, but she took responsibility for it," Brantley said. "She felt guilty because she should've been a better mother." The explanations did little to placate bystanders. They were outraged. "You have to start with the fact that this was a very sensitive issue for the community," Brantley said. "This was a high-profile case - not just in Dothan and Tampa, but all over the country. People felt at least subconsciously that she was guilty." The Houston County district attorney refused to settle for anything less than the death penalty. In the local newspaper, he called Cody's mother a "child slaughterer." It took an hour and 17 minutes for a jury to sentence Tierra Capri Gobble to death for the murder of her infant son. Many in Dothan felt the punishment fit the crime.
"It's a 4-month-old who had a life before him just snuffed out," said Houston County Sheriff Lamar Glover, a 63-year-old former state trooper born just outside of Dothan. "Our community just simply does not tolerate people who abuse children."
Not Forgotten
Talk of Cody started up again in March when Edgar Parrish pleaded guilty to child abuse and manslaughter. He was sentenced to 10 years in jail. He since has applied for probation. Gobble, now 23, sits on death row at Tutwiler Prison for Women. Death sentences in Alabama automatically are appealed. Cody's father, 22-year-old Samuel Hunter, remains jailed in Dothan awaiting trial on charges of first-degree domestic violence and child abuse. Cody's sister, now 3, went to live with a foster family in Dothan. For a while, they took her to visit her brother's grave, Byrd said. He thought the girl might be adopted by now. He wasn't sure if she visits the cemetery anymore. People still leave flowers and toys - even a tiny Christmas tree once. "There's something on the grave all the time," Byrd said. "It is not forgotten."
FOR CODY
When 4-month-old Phoenix "Cody" Parrish was beaten to death in Dothan, Ala., residents there found themselves loving a boy they never knew. Three of Cody's family members from Tampa were charged in the Dec. 15, 2004, murder:

Tierra Capri Gobble, 23, above, was given the death penalty for killing her son. She is on death row, and her case is being appealed.
Samuel Hunter, 22, was charged with first-degree domestic violence and child abuse in his son's death. He is in jail awaiting trial.
Edgar J. Parrish, 42, Cody's great-uncle, had temporary custody of the baby and his sister. In March, Parrish pleaded guilty to child abuse and manslaughter and was sentenced to 10 years in prison.




"Think of stepping on the shore and
finding it Heaven;

Of taking hold of a hand and
finding it God's Hand;

Of breathing a new air and
finding it celestial air;

Of feeling invigorated and
finding it immortality;

Of passing from storm and tempest
to an unknown calm;

Of waking and finding it Home!




Give, O Lord, to the souls thou hast taken.
Rest in paradise,
that place of light in the heavenly Jerusalem
forever.

And we who are still pilgrims here
keep in Thy faith,
giving us Thy peace even unto the end
and leading us into
Thy Kingdom.


Coptic Liturgy



"For I know the thoughts that I think towards you
says the Lord,

thoughts of peace ........

to give you a future

and a hope."


Jeremiah 29:11








Story By : Sherri Ackerman/Tampa Trib

For additional articles and stories visit the following links:
http://www.prisonpotpourri.com/ChildAbuseAndMurder/Hillsborough%20Report%20Caseworker%20never%20told%20of%20missing%20kids.html

http://www.laxat.com/Report-raps-Hillsborough-agency-648093.html

http://www.ajs.org/jc/death/2005/jc_death_cases4qtr.asp

http://www.laxat.com/Caseworker-Didnt-Notify-Police-Children-Were-Missing-648593.html

http://www.wtvynews4.com/home/headlines/1922152.html

http://alabamawatch.com/2005/09/24/do-the-right-thing-judge/

http://www.sptimes.com/2005/08/22/State/Delay_denied_for_tria.shtml

http://people.smu.edu/rhalperi/updates.html

http://www.covenantnews.com/abortion/archives/015100.html

http://ccadp.proboards40.com/index.cgi?action=display&board=news&thread=1148141821&page=1#1148141821

http://www.wtvynews4.com/home/headlines/1151667.html

http://www.dothaneagle.com/servlet/Satellite?pagename=DEA/MGArticle/DEA_BasicArticle&c=MGArticle&cid=1137835067865

http://www.dothaneagle.com/servlet/Satellite?pagename=DEA/MGArticle/DEA_BasicArticle&c=MGArticle&cid=1128769035926
http://www.prisonpotpourri.com/ChildAbuseAndMurder/Hillsborough%20Report%20Caseworker%20never%20told%20of%20missing%20kids.html

http://www.laxat.com/Report-raps-Hillsborough-agency-648093.html

http://www.laxat.com/Report-raps-Hillsborough-agency-648093.html

http://www.ajs.org/jc/death/2005/jc_death_cases4qtr.asp

http://www.laxat.com/Caseworker-Didnt-Notify-Police-Children-Were-Missing-648593.html

http://www.wtvynews4.com/home/headlines/1922152.html

http://alabamawatch.com/2005/09/24/do-the-right-thing-judge/

http://www.sptimes.com/2005/08/22/State/Delay_denied_for_tria.shtml

http://people.smu.edu/rhalperi/updates.html

http://www.covenantnews.com/abortion/archives/015100.html

http://ccadp.proboards40.com/index.cgi?action=display&board=news&thread=1148141821&page=1#1148141821

http://www.wtvynews4.com/home/headlines/1151667.html

http://www.dothaneagle.com/servlet/Satellite?pagename=DEA/MGArticle/DEA_BasicArticle&c=MGArticle&cid=1137835067865

http://www.dothaneagle.com/servlet/Satellite?pagename=DEA/MGArticle/DEA_BasicArticle&c=MGArticle&cid=1128769035926